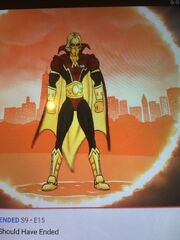 Martha Warlock is a Sovereign created by Ayesha in order to help her destroy Superman and Batman.
History
How Guardians of Galaxy Vol. 2 Should Have Ended
How Wonder Woman Should Have Ended
How Spider-Man Homecoming Should Have Ended
How Thor: Ragnarok Should Have Ended
How Justice League Should Have Ended
Martha arrives and succeeds in his primary objective of destroying the cafe but upon facing the Justice League, joined by Green Lantern, who comically resembles Steve Trevor, gets his neck snapped by Superman, much to the irritation of Batman, who had wanted to take down Martha through his own plan.
Appearances
How Guardians of the Galaxy Vol. 2 Should Have Ended (mentioned)
How Wonder Woman Should Have Ended
How Spider-Man Homecoming Should Have Ended (drawing)
How Thor: Ragnarok Should Have Ended (cameo)
How Justice League Should Have Ended (death)