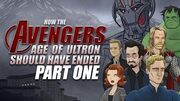 Transcript
Tony Stark: I'm calling in Veronica!
Ultron: You think I don't know about Veronica?
Veronica: I have failed you!
Tony Stark: Okay! Let's see how fast I can buy the parts for a new Veronica.
---
Rhodey: I'll handle this. War Machine comin atcha!
Tony Stark: Don't worry I got!
---
Steve Rogers: We have to saves these people! Everyone, get in the quinjet!