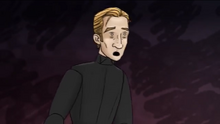 General Hux
was a General in the First Order from Star Wars: The Force Awakens.
Star Wars The Force Awakens Alternative HISHE
Edit
General Hux learned that the Resistance had unleashed their own death star weapon and reported to Supreme Leader Snoke (Gollum) and Kylo Ren about it. However he was too frightened and ran off leaving Kylo Ren confused. At that moment the Resistance's death star fired on Starkiller base, killing everyone (Including Hux and Res) on board.
Appearances
Edit
Ad blocker interference detected!
Wikia is a free-to-use site that makes money from advertising. We have a modified experience for viewers using ad blockers

Wikia is not accessible if you've made further modifications. Remove the custom ad blocker rule(s) and the page will load as expected.