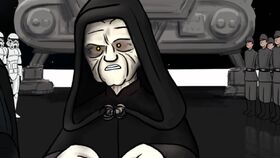 Emperor Sheev Palpatine
, also known as
Darth Sidious
,
was a Sith Lord who ruled the Galaxy. He currently serves as the bartender of
Villains Pub
.
Biography
Appearances
How It Should Have Ended Episodes
Villain Pub Episodes
Allies
Darth Vader (Formerly)
Zod
Loki
Magneto
Khan
Ronan
Electro
Two Face
Bane
Enemies
Luke Skywalker
Han Solo
Princess Leia Organa
Darth Vader
Princess Padme
Ad blocker interference detected!
Wikia is a free-to-use site that makes money from advertising. We have a modified experience for viewers using ad blockers

Wikia is not accessible if you've made further modifications. Remove the custom ad blocker rule(s) and the page will load as expected.