HISHE Comics
Edit
HISHE Comics are comics on the How It Should Have Ended website. Daniel draws them all. He has recently taken up a zombie series that has consumed all his comic efforts.
First Comics
Edit
Daniel's first comic was a black and white "sketch" of his dog from around 05-06.
They seem to be in no particular order except for some short mini arcs. The arcs include  the "Huge Sack" Arc; the "Vacation" Arc (all about
Kiddo
); the "Date" Arc (which actually was three, out of order comics); the "Fitness Test" Arc, and the "PC" Arc which led to the "Jeeptimus" Arc.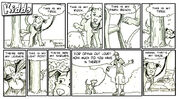 Daniel's last "comic" was from '08 and was called "Bat-Dan".
Zombie Comic
Edit
Zombie Comic was started in '08 and the setting started at Karl's house. It is apparently on hiatus as the last comic was made in 2012.
Ad blocker interference detected!
Wikia is a free-to-use site that makes money from advertising. We have a modified experience for viewers using ad blockers

Wikia is not accessible if you've made further modifications. Remove the custom ad blocker rule(s) and the page will load as expected.